Ve dnech 24.6 – 29.6.2017 se výprava Středočeského krajského sdružení zúčastnila VIII. Letní Olympiády mládeže v Brně ve složení :
Vedoucí výpravy – Radek Tichý
VzPi – Gurtlerová Adéla
         – Šilha Roman
VzPu – Neumanová Barbora
           – Zmátlo Matěj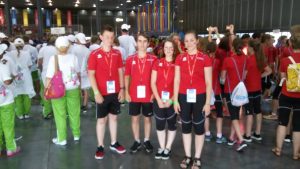 Soutěžilo se v těchto disciplínách : VzPi 40 dívky a chlapci, VzPu 40  dívky a chlapci, VzPi Mix a VzPu Mix. Vzduchovková střelnice byla postavena v hale H na brněnském Výstavišti. Organizátorům se to moc povedlo, samotné střeliště mělo podobu jako na Mistrovství Evropy. Za střelci byly stolečky pro trenéry a ostatní členy výpravy.  Dále organizátoři zabezpečili občerstvení pro soutěžící a doprovody, o to se staral p. Janota.
V neděli soutěžili pistoláři VzPi 40. Jako první nastoupili dívky, zde za Středočeský kraj nastoupila Adéla Gurtlerová. Začátek závodu zvládla velmi dobře, pohybovala se kolem druhého místa, ale ke konci párkrát chybovala a bylo z toho 347 bodů a 5. místo v kvalifikaci. Do finále nastupovala celkem klidná, ale atmosféra a bouřlivé povzbuzování nervozitu zvyšovalo. Adéla se snažila, ale nakonec dosáhla jen na 7.místo. Dále nastupoval za chlapce Roman Šilha (náhradník za Vojtu Jonáka z důvodu úrazu). Roman nezačal nejlépe, ale postupně se snažil dotahovat, ale ztráta byla veliká a tak s výsledkem 345 bodů skončil na nepostupovém 12. místě.
V pondělí nastoupili puškaři. Jako první začínala Bára Neumanová. Závod se jí v celku povedl a s pěkným výsledkem 404,8 bodu obsadila v kvalifikaci pěkné 4. místo. Do finále však nastupovala trochu nervozní. Trochu ji pohltilo bouřlivé povzbuzování a tak nedávala moc desítek, pouze devítky, které však nestačily na další postup. Bára vypadla jako první a to znamenalo 8. místo. Do další směny nastoupil Matěj Zmátlo. Matěj navenek vypadal klidně, ale atmosféra olympijského závodu ho také pohltila. Matěj bojoval do poslední rány. I když s výsledkem 397,6 bodu moc spokojen nebyl, umístil se na 6. místě a postoupil do finále. Finále se vyvíjelo velice příznivě, když se Matěj pohyboval na medailových místech. Pak přišlo několik chyb a Matěj se propadl na 4.místo, na kterém také skončil. Chybělo málo a byla medaile.
V úterý následovaly Mixy ze vzduchové pušky. V základním závodě Bára a Matěj stříleli slušně (504,3 bodu) a postoupili do semifinále ze třetího místa. V semifinále je porazil jen Liberecký kraj a tak je čekal souboj s Moravskoslezským krajem o třetí místo. Bára s Matějem začali dobře, ale pak začali dávat daleké devítky a tento souboj prohráli. Tak že celkově skončili na pěkném bramborovém 4. místě.
Ve středu nás čekal Mix ve vzduchové pušce. Adéla s Romanem nemohli chytit rytmus a udělali několik velkých chyb. Škoda, chybělo pár bodů a mohli se kvalifikovat do semifinále. Po základním závodě skončili na 12. místě.
Co dodat na závěr. Ačkoli jsme nezískali medaile, byly to závody na slušné úrovni a veliká zkušenost pro naše střelce. Za Středočeské krajské sdružení všem střelcům moc děkuji za vzornou reprezentaci kraje a přeji jim mnoho dalších úspěchů ve sportovní střelbě.
Za Středočeské KS Radek Tichý